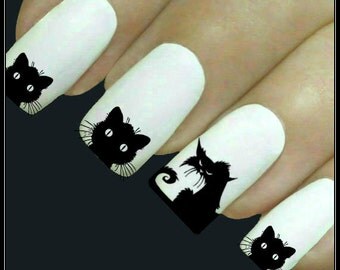 Being abroad I've recently discovered Halloween isn't as big of a deal as Americans make it to be. Yet, I am a festive person that loves dressing up at all costs. So, my disappointment for people not celebrating the makeshift holiday was sky rocketed. I would not be supporting my annual cat look.
What I can do this year is add spooky chic beauty looks. A way to achieve that aim is to get a manicure.  When I go in I typically get a black or white background. The monochrome colors provide a clear backdrop for adding other textures or designs. Then I typically get cat or spider stickers on my nails once it drys.
last years cat nails
For more creative people you can use Essie nail polish and add stickers or decals to your nails.  Claire's has a lot of cheap stickers  and fake nails too. In you are talent beautification attempting stripes can also be a unique idea. This is super cute if you plan on going as a witch and have striped stockings to accessorize.
Prefect the style below!