As a student studying zoological veterinary medicine I come across lots of marsupial animals. Last week I posted a bit about the Quokkas on Rottness Island. Australia, is filled with several types of marsupial animals. One of the most beloved are the Wallabies.
Wallabies like Quokkas and Kangaroos are apart of the macropod family. This means they are a marsupial animal that uses there hing legs and tail for balance and stability. There hind legs are often longer than there front and resort to hopping mobility.
Many people consider Wallabies to be "mini Kangaroos" and several consider them in the Kangaroo species. However, my professors disagree due to anatomical differences. Wallabies are visibly shorter. There body range is 40-112 cm from head to tail. Tail span ranges from 30- 80 cm. Likewise, there features are also "softer" since most wallabies are viewed as more delicate. They have longer eyelashes and more pointed noses. In addition they also have a higher metabolic rate due to expansion in the extensor ankle tendons. This enables high power kicks and impressive jump ranges.
Wallabies are like most there macropod family members and are sensitive. They like to be around positive and happy environments. Wallabies aren't big on loud noises and don't fare well in easily excited landscapes. They are native to the Australian terrain and outback. However due to there population numbers many are viewed as pest, much like there family members.
Since, I like to do rescue work I decided to list a few ways to help care for a Wallaby encase one is in need of care. There a few Wallaby rescues one can contact.  However, if one can't reach a rescue this is a care protocol one should follow.
Health- Wallabies will need regular vaccinations. They are susceptible to many parasites and can become easily vitamin deficient. So, make sure to schedule biannual appointments with an exotic or zoological veterinarian to make sure health needs are necessary. If the vet requires additional appointments make sure to attend.
Diet– Wallabies can eat alfalfa and grass. This is the main staple of their diet. If trying to lure a Wallaby or entice them into eating more food add carrots and dandelion leaves to the feed. As far as treats go Wallabies love carrots, broccoli, and bananas. They should only be given once a week since they aren't a natural diet for a macropod.
Note; When eating Wallabies often regurgitate there food. This isn't a sign of illness it is just a way they break down the roughage in there diet. It helps the protein content be digested smoothly.
If caring for a Wallaby joey one should have Wombaroo Milk Replacer. This is a special milk powder formula all marsupial animals should have under 24 months. It should be feed in a bottle.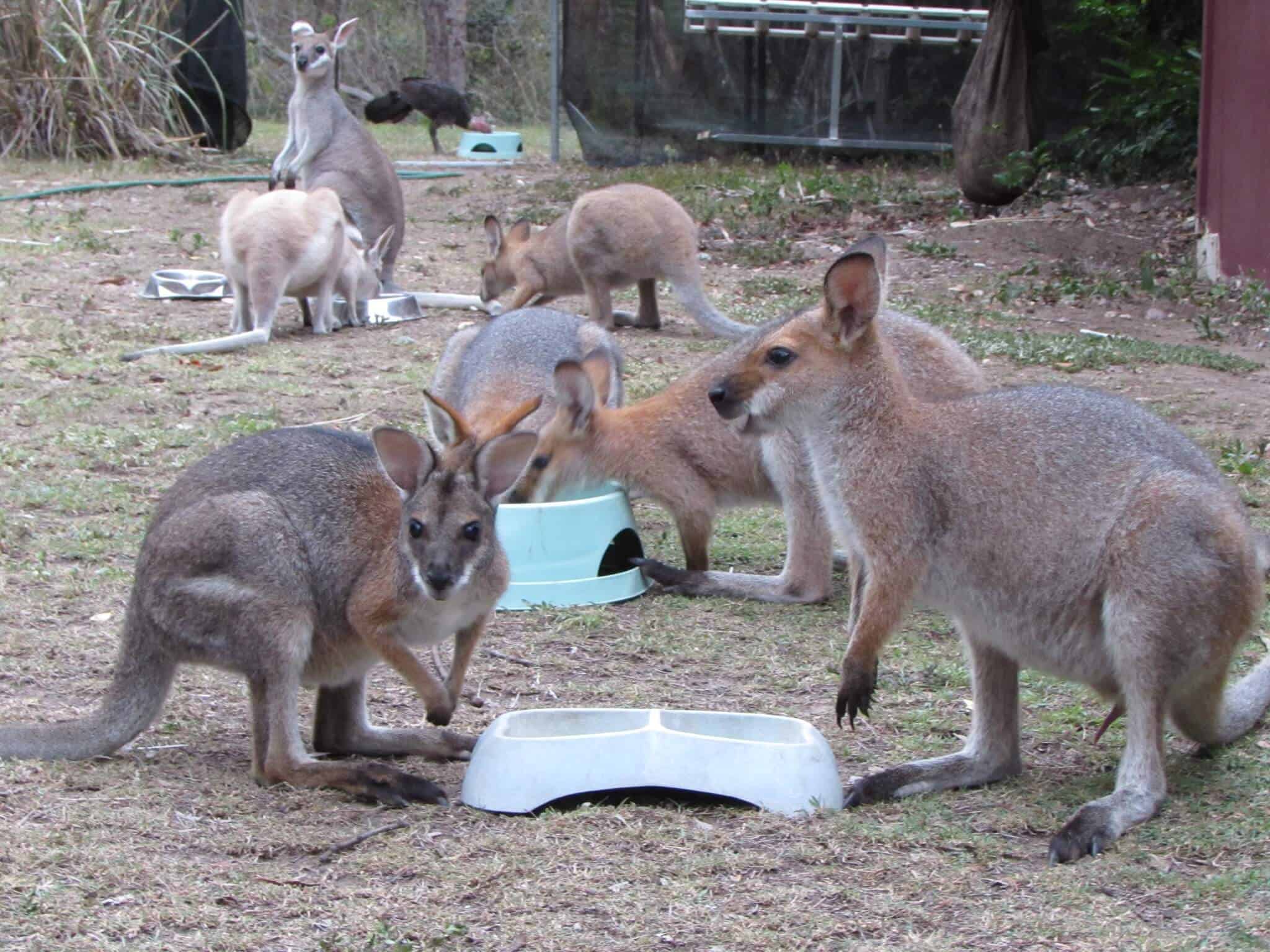 Housing– Wallabies are active animals that need space. If caring for one on your own make sure they have an outdoor space they can get at least four hours a day in. Likewise, there inside enclosure should be at least 6×6 feet. This ensures they can have proper room for mobility.
Since they are a marsupial animal you can take old bags and hang them in the room so they have a makeshift marsupial.  When inside the temperature needs to be above 50 degrees. They are partial to higher temperatures.
Note; Wallabies will often reveal symptoms of illness by liking there paws and coats. Normally, this would be a sign to take a marsupial animal to the vet, yet wallabies utilize it as a mechanism. This helps cool off there bodies from the preferred warmer temperatures.
A list below are a few wildlife sanctuaries and rescues that will care for wallabies. If you cannot care for a wallaby properly or have questions about an endangered wallaby or macropod feel free to contact these resources.