A recent  winter trend has been to wear colored velvet apparal. Every department store has racks filled with emrald green, dark blue, deep purple, and ruby red velvet skirts, tops, and dresses. Even hair scrunchies and scarves have been fashioned in the velevet texture. Beeing that I'm more into bohemian clothing styles or a polished classic look the velet trend is not my favorite. Velvet just clashes with my clothing style.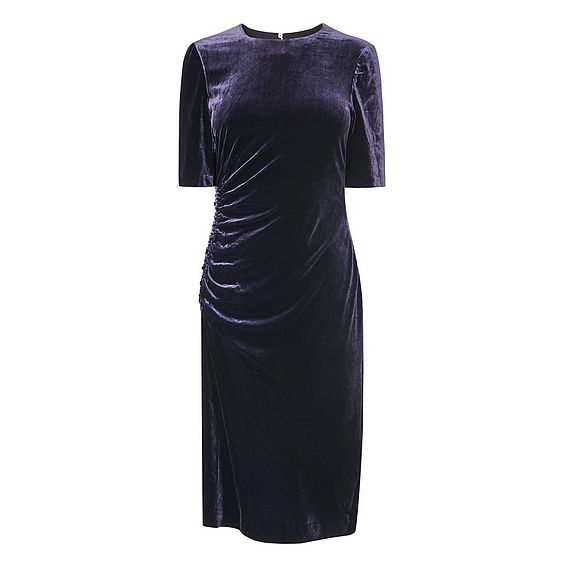 While my friends were obseessing over their new "trendy" velvet products I was veering away from the new it thing. Velvet wasn't something that I wanted to accesorize or center my outfit around.
Personally,  velvet is a fabric that I cannot incorperate naturally into my daily styles, as it ruins the look I'm striving for. When styling my more classic outfits the velvet tops or dresses seemed to make my blouses or skirts seem cheap and tacky.  If paired with a off the shoulder blouse and blazer I was often reminded of the early 2000's mom velour track suites. Likewise, on my boho or beach iteams it made my outfits seem more grunge or skater. So, I've been avoiding the trend like the plauge this season.
Velvet definatly is a no for me under the contexts. However, I found that patterend floral velvet iteams were a yes. The lighter velvet colors were romantic and freeing. Blush, peach, and golden tones were perfect for achieving a classic look. The patterns on the velvet tarnsished the grunge or mom style velvet apparal normally provided.
Notably, I discovered a blush pink velvet skirt that went nicley with my feathered heels and oxford shirt. Likewise I matched an outfit with a floral gold tank top with shorts and wedges.
While I may mark velvet as a NAY under normal terms there are cases where I would most positiviley regaurd velvet clothing apparal as chic.