In the 80's the fanny packs were invented for a lifestyle accessory. You could accessibly add all your basic necessities into a bag attached at the waist and enjoy your day. The fanny pack consisted of rayon packaging and neon colors no one cared for.
Obviously, this trend was never a hit. Yet, the concept of easy  travel and mobility were still a necessity. Taking a hint from sorority girls across the states, who use fanny packs religiously for all greek day events,  brands where able to reinvent the waist bag concept.
Giving the mockable bag a comeback, Gucci's Marmont GG leather belt bag lead the comeback. The started the reinvention with a new name, a belt bag. Simple but trendy. Plus with the 2017 environment toward classy minimalistic clothing the designer brands was perfect to pioneer the trend.
As festival season approached in 2018 every influencers online seemed to have a version of the leather staple. The belt bag appeared to be everywhere. It was the perfect accessory, clean, classy, and cute.
High brands then adopted the iconic Gucci enablement. Brandy Melville added a horse bit across the faux leather pouch. Revolve took a different approach adding different belts to go with their bag. Nordstrom's offers the belt bag in vegan leather or an eco-friendly version of cotton. All of these affordable styles appealed to brand marketers on instagram.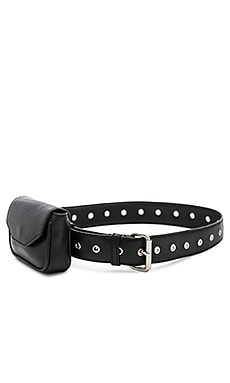 Anyone who is currently following Coachella 2018, week 1 fashion can note that this style was rampant. It fit the music festival's laid back modern bohemian vibe. The belt bag made transportation from one concert to another as easy as ever.
Notably, the belt bag unlike its dinosaur ancestor, the fanny pack will be here to stay.